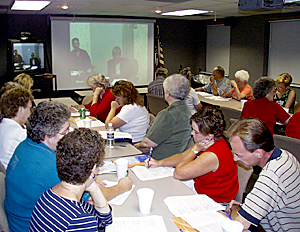 Interactive Video (ITV) Classroom
The 18′ x 33′ interactive video classroom is large enough to allow classes of up to 40 people. Furnished with comfortable chairs and seminar tables, people may participate actively and simultaneously using the two-way interactive distance learning video system. It is equipped with a Polycom unit with audio and microphone systems.
---
Public Access Computers

Six networked computers are available for public access. These computers provide the public free access to workstations connected to the Internet and include the Microsoft Office product suite. A laser printer is connected to the public access workstations and can be used for a nominal charge. Although use of the public access workstations is free, patrons are required to read and agree to stated usage guidelines.
---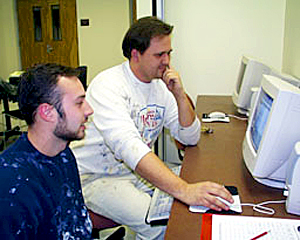 Computer / ITV Lab
The 18′ x 20′ computer lab is a general-purpose classroom and is available to groups on a fee-for-use basis as scheduling allows. The room also serves as an additional interactive video (ITV) room. The room is equipped with a ceiling-mounted projector linked to an instructional computer, ten networked computer workstations, and a Smart Board touch screen.
---
Three Conference Rooms

The 15′ x 18′ conference room provides typical conference room style seating for up to twelve people. Another 15′ x 30′ conference room provides seating for up to 18 people. A networked computer is available with Internet access. A large screen TV is also available for use in the rooms.  A new 18′ x 40′ room is available with round tables and chairs and holds up to 40 people.
---
Multipurpose/Gymnasium

A 60′ x 90′ multipurpose room/gymnasium can be used for fundraising events, meetings, family reunions, basketball practice, roller skating, roller derby, volleyball, pickleball, pingpong and indoor walking.