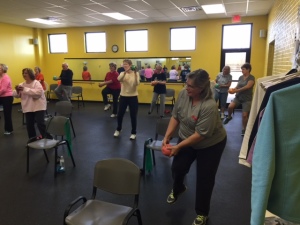 Sweet & Low
A low-impact aerobics class with a slightly slower pace. This class is a good body sculpting workout that may include resistance bands, chair work, and moving to really good music. Motivating and a lot of fun!
Class Duration – 60 Minutes
 Cardio                                                                                                
A high-energy aerobic workout designed to keep you moving and blast fat.  Core and strength training at the end of class is an added bonus that will help you achieve a sleek, toned and tighter body.
Class Duration – 60 minutes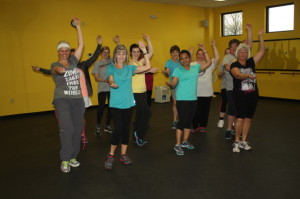 Zumba
Zumba Fitness® is the only Latin-inspired dance-fitness program that blends exotic rhythms set to high-energy Latin and international beats. Its contagious steps form a "fitness-party" that is downright addictive. Before participants know it, they're getting fit and their energy levels are soaring! Since its inception in 2001, Zumba Fitness has grown to become the world's largest-and most successful – dance-fitness program.
Class Duration – 60 Minutes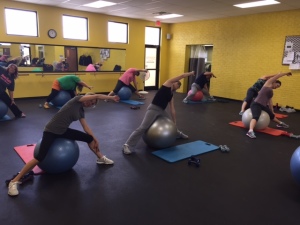 Power Circuit
Strength Circuits designed to target each major muscle group of the body. This group exercise class will strengthen and tone the entire body while driving up the heart rate, offering a total body strength and cardio session all in one.
Class Duration – 60 Minutes
Yoga
This is a power yoga class as members learn specific bodily postures and poses and hold them through an intense burn. This practice can transform your muscles in a way no other form of exercise can. A regular Yoga practice will help transform both your mind & body, ultimately helping you find an inner calmness & peace, enhance your balance & stability, and leaving you feeling stronger & more centered.
Class Duration – 40 Minutes
Slow Motion
Slow Motion – An exercise class for people with arthritis and limited mobility. Features chair exercises and light weights.
Class Duration – 60 Minutes
Kick Boxing
This class is a combination of cardio, boxing & martial arts providing a total body workout which aims to improve strength, aerobic fitness, speed, flexibility, coordination & balance. Come try one of the most popular fitness trends. Kick, jab, hook & upper cut to a fitter you!
Class Duration – 60 minutes
Abs & More is a class focusing entirely on the abs. There are many multifunctional moves that work other major muscle groups while working the abs at the same time. This class will strengthen your body while raising your heart rate.
Class Duration – 60 Minutes